English Show / Key Note Speaker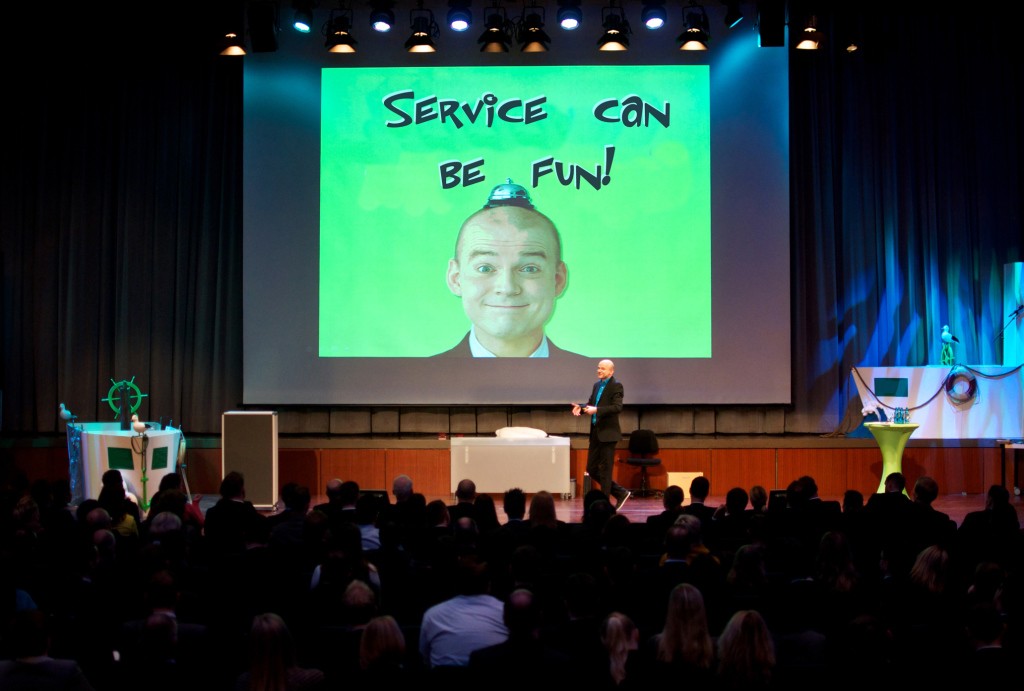 Armin Nagel is a comedy speaker, moderator and service expert with successful performances for more than twenty years. Furiously entertaining and with unconventional means, Nagel conveys to domestic and international businesses what customers really want and shows them practical, playful ways to improve their service culture. The German TV station ZDF has called him 'Germany's  first service comedian'. 
As a Key Note Speaker  Armin Nagel creates a creative atmosphere that makes people see things from a fresh angle. His basic principle is 'learn and laugh', and his inspiring, unconventional style thrills not only global players, but also small and mid-sized businesses.
Comedian Armin Nagel is also regularly on tour as a TV expert (e.g. for SAT 1, Weck Up and ZDF Reporter). With his web video format 'Der Servicepionier' (The Service Pioneer), he features new service ideas in his lone battle against the service wasteland. Upon request, Armin Nagel will develop and produce custom-made, on-target service video clips for your event and include it as highlight in his presentation – like the customized 'carglass customer journey' video, he had produced for a management conference of the company Carglass.
Service Expert Armin Nagel is one of the few speakers who will guide your audience through the event  and will also perform in the evening programme, guaranteeing intelligent entertainment and roaring laughter. He will contribute not only to the professional, but also to the emotional success of your event.
Armin Nagel as Key Note Speaker
SERVICE CAN BE FUN, TOO
Playful ways to ensure a better service culture 
Businesses that know what their customers want are one step ahead of their competitors. With the help of the customer-benefit-perspective and various practical examples,Germany's funniest service expert provides valuable impulses for a better service culture.
Armin Nagel is not only a speaker, but first and foremost a man of action! In his keynote speech 'Service can be fun!', 'Germany's first service comedian' (ZDF) sets an example by showing innovative and unconventional service sketches in his self-produced video clips.
Contents of the talk:
Why do customers only get good service when they do not want it?
What do customers really want?
From corporate to service culture
Don't worry, the customer only wants to play!
Enthusiastic employees will contribute to customer enthusiasm
As special you will see your custom-made, on-target service video clip as the highlight of the talk, and a free DVD for your guests to take home!
Armin Nagel as Business Comedian and Moderator
POWER PLAY – BUSINESS COMEDY
The business comedy show that addresses the modern worlds of work – ideal as evening entertainment programme of conferences, workshops or corporate events.
In a combination of stand-up comedy, visual / artistic comedy and interactive features, Armin Nagel will furiously entertain your audience in an evening entertainment programme. Nagel received part of his training at the British national Circus Theatre School in Bristol. As a business comedian who looks back on more than 2,000 live performances, he is bound to contribute not only to the professional, but also to the emotional success of your event. Interactive, sensitive and always with a punch-line up his sleeve, his stage show will take up the questions and contents of your event from an entirely new angle.
In a selection of his best sketches, customized to accommodate your individual needs, Global Top Speaker Armin Nagel presents himself as a cunning business expert: from his haphazard balancing on the career ladder to his Power 'Bürobic', from his world record attempt at non-stop service provision to his financial juggling: Armin Nagel pushes the limits of the modern world of work! With his humour and his open, charming manner, he invariably succeeds in creating a respectful atmosphere in which everyone feels at ease. By laughing together, people will more readily break the ice and engage in conversation.
Contact and Booking:

Heinrich Kürzeder
Untere Hauptstraße 5
D-89407 Dillingen/Donau
Fon +49 (0)9071 770 35-0
Fax +49 (0)9071 770 35-29
a.nagel@5-sterne-redner.de