SERVICE SPEAKER AND BUSINESS COMEDIAN ARMIN NAGEL
Service Knowledge and Business Humour: highlight for conferences
I am Armin Nagel, a comedy speaker, moderator and service expert with successful performances for more than thirty years.
Furiously entertaining and with unconventional means, I convey to domestic and international businesses what customers really want and show them practical, playful ways to improve their service culture.
The German TV station ZDF has called me 'Germany's first service comedian'.
As a Keynote Speaker I create a creative atmosphere that makes people see things from a fresh angle.
My basic principle is 'learn and laugh', and my inspiring, unconventional style thrills not only global players, but also small and mid-sized businesses.
I am one of the few speakers who will guide your audience through the event and will also perform in the evening programme, guaranteeing intelligent entertainment and roaring laughter.
More videos (in german) you will find in the media center.
Please click on the service bells in order to get more informations:
Service Keynote
Service can be fun, too!
Playful ways to ensure a better service culture
Businesses that know what their customers want are one step ahead of their competitors. With the help of the customer-benefit-perspective and various practical examples, "Germany's funniest service expert" (ZDF) provides valuable impulses for a better service culture.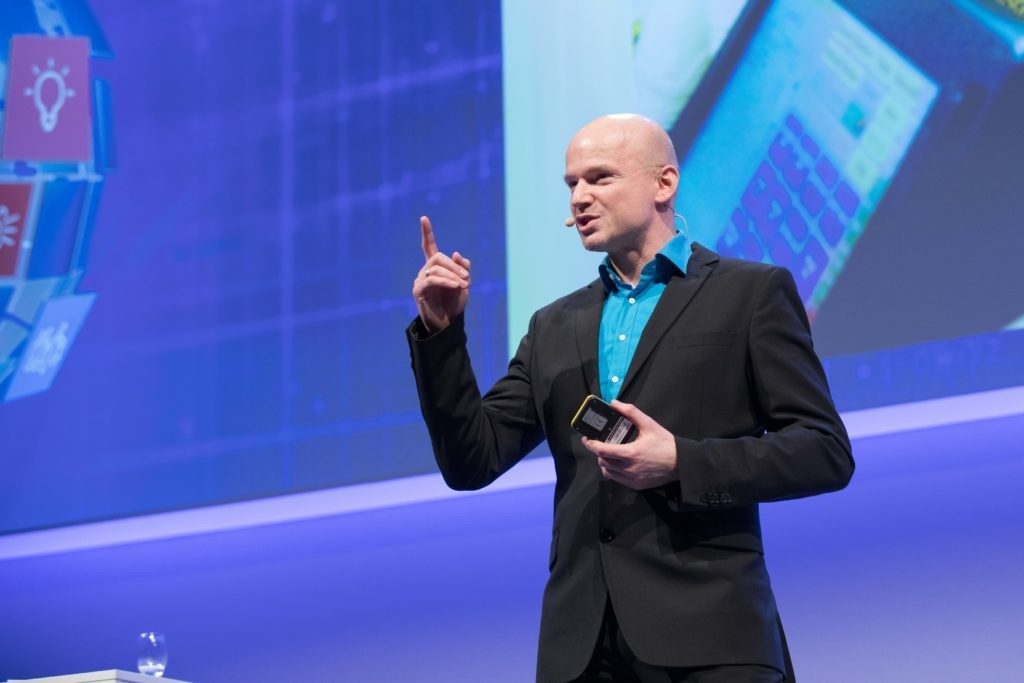 Contents of the talk:
Why do customers only get good service when they do not want it?
What do customers really want?
From corporate to service culture
Don't worry, the customer only wants to play!
Enthusiastic employees will contribute to customer enthusiasm
As special you will see your custom-made, on-target service video clip as the highlight of the talk!

Business Comedy
Power Play – Business Comedy at its best!
The business comedy show that addresses the modern worlds of work – ideal as evening entertainment programme of conferences, workshops or corporate events.
In a combination of stand-up comedy, visual / artistic comedy and interactive features, I will furiously entertain your audience in an evening entertainment programme.
As a business comedian who looks back on more than 1.000 live performances, I am bound to contribute not only to the professional, but also to the emotional success of your event.

With my
humour
and my
open, charming manner
, I invariably succeed in
creating a respectful atmosphere
in which everyone feels at ease. By
laughing together
, people will more readily
break the ice
and engage in conversation.
Contact and Booking:
Give us a call!

5 Sterne Redner Team
E-Mail: beratung@5-sterne-team.de
Tel: +49 (0)821 790040-10
www.5-sterne-redner.de